A Process Crafted To Keep You Top Of Mind
We proudly serve the Elizabethtown, Radcliff, Rineyville, Vine Grove, and Brandenburg areas of Kentucky
You're Part Of The Superior Team
There's nothing quite like the feeling of finally being able to start your dream home renovation. You've been scrolling through Pinterest for months, slowly adding ideas to your board and saving up for just the right moment. And now, the time has finally come!
But the process can be nerve-wracking, and  having strangers in your home, especially when they're going to be there for an extended period of time, can be a bit uncomfortable.
But at Superior Remodeling and Construction, we want to make the process as comfortable and enjoyable as possible for our clients. We keep you in the loop every step of the way, so you always know exactly what to expect.
We understand that this is your home and your vision, and we want to help you bring that vision to life.
So go ahead and add that dream bathroom to your Pinterest board – we can't wait to help you make it a reality!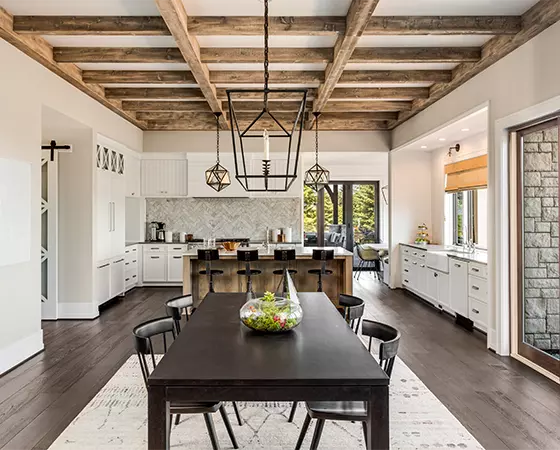 9 Steps To Your Upgraded Space
Step 1. Fill Out Our Form
We can't wait to help you with your remodeling project. In order to get this started, we'll need for you to fill out the form on our contact page.
You'll be able to provide the necessary information we need, and you'll have the option to attach images of your current space, or vision.

Step 2. Phone Consultation
Once we receive your form, we will call you within 1 business to talk more in depth about your project. We'll even go over timeline, budget, and design.

Step 3. Design Consultation
During the design consultation, we will do a walk through with you of your current space, and discuss your overall wants and needs for your upgrade. 
We will make sure to talk through potential risks, design capabilities, and how we will turn your vision into a reality. 
There is a $550 cost during the design consultation that goes towards the final cost of the project.
Once we have discussed all the details of your project, including the cost and timeline, we will sign the contract and collect the initial deposit.
After the contract is signed, we will get you on the calendar to officially start your project.

Now that the contract is signed and we have decided on the overall design, we will order all limited materials needed for your project.
Step 6. Pre Job Walkthrough & Project Start
On your scheduled start day, we will do a pre-job walkthrough with you to confirm the details of your project. 
After the pre-job walkthrough, we will make sure to protect the parts of your home that will not be impacted during the buildout process.
Step 7. We Work Our Magic
During this time, we will work on bringing your vision to life. We will be available to answer any questions that you may have and will keep you updated on our progress.

Step 8. Final Walkthrough
When we are done transforming your space, we will do a grand reveal and final walkthrough of your space to make sure that it exceeds all your expectations. If there is anything that needs to be tweaked before we leave, we will address it during this time.

Step 9. 3-Year Craftsmanship Warranty
We want to make sure that you love your home for years to come. That's why we offer a 3-year craftsmanship warranty on labor, and a manufacturers warranty on all materials purchased through Superior Remodeling And Construction. 

To make sure that you continue to love your space, we will follow up with you 30 days after the completion of your project. During this time you'll be able to update us on anything that may need enhancing. 
After that, we will continue to follow up every 6 months for the first year of your warranty.
The high-level craftsmanship and personalized customer experience we deliver are what keep our customers happy and telling their friends about us. We can't wait to help you with your painting project!
Angela Hublick
July 9, 2022.
This company has done work for me multiple times and I have always been very happy with them. The most recent task was to install a gigantic dog door in the side of my house and build a staircase down for my dogs on the outside- floor level inside was about 4 feet high on the outside. We ran into a few unexpected challenges due to the size and location of the door But they were able to figure it out and they did a great job!
Goat Quilter
June 23, 2022.
Had a new backsplash installed in kitchen was a bit scared how it would look but I absolutely love it. Rick did awesome job with install and explaining process and materials to me 🥰 So glad I chose this company. Very professional felt at ease to continue working in my office as installation was taking place upstairs. Highly recommend them. 😊 IB Felker
Tiffany Filburn
October 29, 2021.
Ed and his crew are the best! Always nice and get the job done! If I could leave more stars I would. They have taken our home from outdated to our dream!
Tim Miller
October 26, 2021.
I needed more storage space in my barn. Superior Remodeling & Construction designed and built a second floor loft complete with stairs. They also designed a way to hoist larger items up and down. Great people to work with. I will use them again when I remodel our basement.
Ryan Hernandez
October 17, 2021.
Ed and his team were great and I'm really happy with my finished basement. Ed was always quick to return my phone calls and texts when I had questions. Chris and Dave take great pride in their work and it shows. They worked really hard to ensure that I was satisfied with the work being done. Superior Remodeling and Construction will definitely be the first call I make the next time I need work done with the house.
Corey Dyke
January 13, 2021.
SR&C did a great job on finishing our basement. They were on time and on budget. Would greatly recommend them to anyone who needs a remodel or finishing of a basement.
We're More Than Just A Contracting Company