Deck Construction In Elizabethtown, KY And The Surrounding Areas
Build The Perfect Place To Relax Outside And Connect With Nature
We proudly serve the Elizabethtown, Radcliff, Rineyville, Vine Grove, and Brandenburg areas of Kentucky
There's something about being outside in the fresh air that just feels good. Maybe it's the sun on your face or the sound of the birds in the trees.
Whatever it is, there's no denying that spending time outdoors can be incredibly rejuvenating. And what better way to enjoy the outdoors than from the comfort of your own backyard?
A deck is the perfect way to extend your living space and create a private oasis right in your own backyard. Whether you're looking for a place to relax with a good book or entertain friends and family, a deck can provide the perfect setting.
At Superior Remodeling, we design and build custom decks that are tailored to your specific needs and desires. We'll work with you to create a beautiful and functional outdoor space that you'll be able to enjoy for years to come.
An Appealing Feature For Your Home
When you have a backyard, it's like having an extra room – except better. You can enjoy the fresh air and sunshine, entertain guests, and relax in your own private oasis.
If you're thinking of ways to make your backyard even more enjoyable, consider adding a deck. A deck is the perfect place to host a summer barbecue or gather around the fire pit on a chilly evening.
Not only will a deck add to the aesthetic appeal of your home, but it will also increase its value.
Whether you're looking to create more outdoor living space or simply want to boost your home's resale value, building a deck is a smart investment. Let's add function and value to your home!
Deck Construction Pricing
Remodeling your home is an investment worth making. Take a look through our pricing to get a better idea of what your deck construction will cost.
Includes an up to 14' x 12' pressure treated deck, with railings and a small set of steps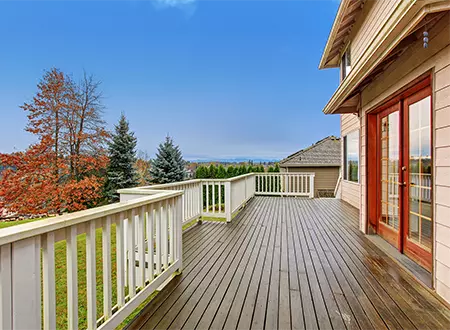 Average Deck Construction*
Includes an up to 18' x 12' Trex or composite low-maintenance deck, railings, hidden fasteners, and steps.
High-End Deck Construction*
400+ square feet exotic wood or composite deck, two levels and stairs, custom layout, custom railing, partial roof, grill/breakfast area, lighting, and more.
*Prices are averages and may change depending on the size of your bathroom and your choice of upgrades and materials. You'll receive an exact quote for your unique bathroom remodeling project after the in-house consultation.
Let's Transform Your Home
We believe that remodeling your home should be both a seamless and enjoyable process. Take a look at our 3 simple steps of renovating your home and start envisioning yourself in your new space.

Step 1.
Fill Out Our Contact Form
We can't wait to hear about your project and how we can help you elevate your space. Fill out the form on our contact page and provide us with some details of your project so we can talk more in depth about your vision.
Step 2.
We Bring Your Vision To Life
Once we have decided on all the details of your remodel, we will get to work in bringing your vision to life. During this time, you can rest assured knowing you and your home are being taken care of.

Step 3.
Love Your Newly Remodeled Home
It's time to finally enjoy your space! We make sure to clean up and leave your home spotless, so that you can jump right in to loving your upgrade. We will make sure to follow up with you after the project in case there is anything that we can improve once we leave.
The high-level craftsmanship and personalized customer experience we deliver are what keep our customers happy and telling their friends about us. We can't wait to help you with your painting project!
Angela Hublick
July 9, 2022.
This company has done work for me multiple times and I have always been very happy with them. The most recent task was to install a gigantic dog door in the side of my house and build a staircase down for my dogs on the outside- floor level inside was about 4 feet high on the outside. We ran into a few unexpected challenges due to the size and location of the door But they were able to figure it out and they did a great job!
Goat Quilter
June 23, 2022.
Had a new backsplash installed in kitchen was a bit scared how it would look but I absolutely love it. Rick did awesome job with install and explaining process and materials to me 🥰 So glad I chose this company. Very professional felt at ease to continue working in my office as installation was taking place upstairs. Highly recommend them. 😊 IB Felker
Tiffany Filburn
October 29, 2021.
Ed and his crew are the best! Always nice and get the job done! If I could leave more stars I would. They have taken our home from outdated to our dream!
Tim Miller
October 26, 2021.
I needed more storage space in my barn. Superior Remodeling & Construction designed and built a second floor loft complete with stairs. They also designed a way to hoist larger items up and down. Great people to work with. I will use them again when I remodel our basement.
Ryan Hernandez
October 17, 2021.
Ed and his team were great and I'm really happy with my finished basement. Ed was always quick to return my phone calls and texts when I had questions. Chris and Dave take great pride in their work and it shows. They worked really hard to ensure that I was satisfied with the work being done. Superior Remodeling and Construction will definitely be the first call I make the next time I need work done with the house.
Corey Dyke
January 13, 2021.
SR&C did a great job on finishing our basement. They were on time and on budget. Would greatly recommend them to anyone who needs a remodel or finishing of a basement.
The Perfect Extension Of Your Home